Nestled on beautiful Gould's Island in the heart of Golden, British Columbia, The Island will tempt you with wonderful Rocky Mountain Cuisine mixed with a taste of Asian and European Fusion. Open daily for lunch and dinner, guests can stop in for a quick soup, salad or sandwich, or relax and dine on one of our Asian inspired starters followed by an entrée of local game.
Guests can relax in the comfort of the rustic log building with views of the mountains out every window. To the south, the amazing ski runs of the Kicking Horse Ski Resort can be admired. To the north is Mount 7 – a thrill-seeker's paradise and starting point to paragliding and mountain biking. Upper and lower patios overlooking the Kicking Horse River offer prime views of passing rafters and kayakers in the summer.
The Island is also the perfect venue for your wedding, party or other special occasion. With the availability of different levels both inside and out, entire sections can be booked for private events.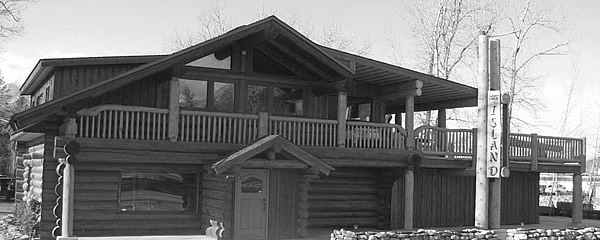 Born and raised in Golden, Aaron Cundliffe, the Executive Chef and Owner of the restaurant, has over 20 years experience in the industry. Aaron started out his career in Calgary and then moved throughout the Canadian Rockies working in Banff, Lake Louise, Emerald Lake and Blue River. Eventually he headed over to Australia to extend his culinary expertise, then onto the Cayman Islands and the United States. Aaron's travels have exposed him to many different styles of cooking, and he is excited to return home and put his accumulation of knowledge and experience into his own venture. Petra Nott, Restaurant Manager and Owner, has over 15 years experience in the tourism industry working in Australia, the Cayman Islands, United States and Canada. Petra's hometown of Rutherglen, Australia is a tiny rural town half the size of Golden. The dry desert-like climate makes it a popular wine region specializing in fortified wines. Aaron and Petra had their wedding at one of these wineries in 2003. The locals loved having all of the funny-sounding Canadian tourists in town, coming into the tiny pubs and sharing their stories.
Our travels have taught us that there is so much to learn and so many interesting people in the world. No matter where you go, you can always find a way to connect with the locals. Golden locals are now embracing travellers from all over the world and appreciating the benefits of what tourism can bring.